Education
Resources for the Classroom
The California Beef Council has a variety of resources available for classroom use geared to K-12. Resources include nutrition information, food preparation and cooking information, science lessons, and more. Email Annette Kassis at annette@calbeef.org to request classroom materials.
All materials are provided to teachers free of charge, courtesy of the Beef Checkoff.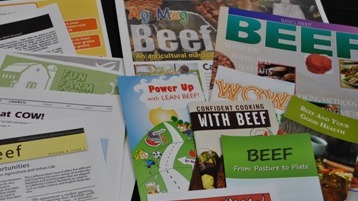 Beef Ag Mag
Grade Level: 3-9

This is a newspaper-style resource that incorporates multiple areas of the beef industry. Topics include U.S. beef statistics, nutrition, food safety, beef vocabulary, branding, common breeds and much more. This can be reproduced so each student can have a copy.
Basics About Beef
Grade Level: 5-12
This beef-focused workbook features information about nutrition, buying beef, beef cuts, food safety, cooking timetables, carving and much more. There are activities for students to complete such as a crossword and fill in the blank.
MyPlate Handout
Grade Level: 3-12
This is a double-sided sheet with MyPlate on the front side and an explanation of the five basic food groups and daily serving sizes on the reverse side.
Beefman
Grade Level: K-6
This mini workbook focuses on bringing ZIP (Zinc, Iron, Protein) into the lives of children. The workbook features a word search, coloring page, crossword puzzle, facts, jokes, MyPlate and important information about the nutrients in beef.
Power Up with Lean Beef
Grade Level: 3-9
This brochure features easy beef recipes for kids, a word search, a hamburger maze, a healthy diet daily log and important information about nutrition.
Wow That Cow
Grade Level: 4-12
An informational tri-fold brochure designed for kids to understand the many significant contributions cattle provide for humans and the environment. Also includes by-product information and nutritional information about beef.
Cow & A Worm
Grade Level: 5-6
Subjects: Science
Colorful, educational poster with accompanying activities demonstrates the positive role ruminants, especially cattle, play in our environment. A teacher's guide and five reproducible activities are printed on the reverse side of the poster.
Caretakers All
Grade Level: 3-8
Subjects: Science, Social Studies
Environmentally-based teaching kit that tells the story of stewardship, animal husbandry and ultimately good "caretaking." A total of six lessons are provided that teach students about five different environmental issues and how to apply those principles in their own community.
Celebrate America
Grade Level: 4-5
Subject: Social Studies
Social studies supplement that provides students the opportunity to explore the foods and traditions of their own individual and cultural backgrounds and gather information about how and when their families came to America. The kit includes a video, leader's guide containing activity masters, and a full-color poster.
Fit For A Princess
Grade Level: After School Program
This kit is targeted for girls' after school programs such as Girl Scout groups. It focuses primarily on girls' nutrition, especially the health benefits of eating foods with ZIP (Zinc, Iron, Protein), such as beef. This kit contains a leader's guide book, student workbooks, a letter to families and a Princess ZIP patch.