FEED ME! Food & Drink for the West Coast
Whether you're a novice cook, someone who loves entertaining, a lover of all things culinary looking for fresh ideas, or someone who gets confused with the instructions for boiling water...Feed Me! will encourage you to get in the kitchen and play with your food.
Join host Marcus D. as he talks with food and lifestyle influencers, chefs, mixologists, wine experts and more in this fun, fresh podcast celebrating food and drink for the West Coast.
Feed Me! launches late June, 2018. Stream the podcast on iHeartRadio or download on iTunes and wherever podcasts are available.
Episode 12
Hot Kitchen Picks for 2019
It's tough to predict the future, but we're going to try! Well, the culinary future, at any rate. Whitney Bond joins Marcus on our final Season 1 episode of Feed Me! to talk about Hot Kitchen Picks for 2019.
Instant Pot Beef Stroganoff
Episode 11
Holiday Entertaining Hacks with Parker Wallace
The holiday season has officially begun! And whether it's Thanksgiving, Friendsgiving, Christmas, the holiday office party or a New Year's Eve bash, Feed Me! has you covered. Star 101.3"s Marcus D. and "culinary goddess" Parker Wallace talk about holiday entertaining hacks in this episode of the Feed Me! podcast.
Parker's Roast Beef Crostinis with Horseradish Cream
"Roast Beef crostinis with horseradish cream and caramelized onions are one of my all-time favorite appetizers! It's also an hors-d'oeuvre you can serve during any season because it's got the rich, earthy elements that are suited to fall and winter with the pop of flavor and freshness that are perfect for spring and summer entertaining."
Episode 10
Family & Food with Sydel Curry
Sydel Curry-Lee joins us to talk about family. Sister of Steph and Seth Curry, daughter of Dell Curry, sister-in-law of "Queen of the Kitchen" Ayesha Curry, and new bride of Damien Lee...it's a family affair and Marcus D. and Sydel are talking about where Food and Family come together. From stories around the dinner table to siblings eating habits to stadium food and Domaine Curry, the wine label Sydel and Ayesha started...it's all on Feed Me!
For the Currys, food and family also intersect with wine. Learn more about Sydel and Ayesha Curry's partnership to produce wines that are big and bold, and the special meaning the wine embodies for the Curry family women.
Episode 9
One-Pot Wonders, Fall Edition with Whitney Bond
Our regular contributor, food blogger and author Whitney Bond returns to Feed Me! to talk about One-Pot Wonders for Autumn. Whitney and Marcus discuss slow-cooker and Instant Pot recipes including Taco Soup, Buffalo Taco Spaghetti, Pumpkin Enchiladas and our featured recipe, French Onion Pot Roast. Listen to Feed Me! Episode 9, and don't forget to go subscribe to the podcast!
French Onion Pot Roast
Whitney Bond's French Onion Pot Roast recipe can be made in either your slow cooker or pressure cooker. Check out her blog post for this and other recipes she talks about in Episode 9 of Feed Me!
Episode 8
Tailgate Like A Pro with Eric Dickerson
Pro Football Hall of Fame running back Eric Dickerson joins Marcus D. to talk about grilling, tailgating and some "exotic" meats that likely won't be hitting the grill any time soon.
Pepper-Crusted Tri-Tip with Garlic-Sherry Sauce
Grilled Tri-Tip with Tropical Fruit Salsa
Episode 7
Coast-side Crab Surf & Turf with Chef Matthew Dolan
California has some 840 miles of coastline, so of course Feed Me! must do a surf and turf. For this episode, Marcus D. is joined by Chef Matthew Dolan, owner and executive chef of Twenty-Five Lusk in San Francisco. We're calling this our Coastal Crab episode, but in addition to the crab we've got rib eye and garlic noodles. It's a surf and turf Bay Area style!
Episode 7 Bonus Video
Watch our host, Marcus D., break down a crab in less than :60 seconds
Episode 6
Packed Lunch Hacks with Whitney Bond
Food blogger Whitney Bond returns to Feed Me! This time she's all about great ideas for packing your lunch, getting kids to eat what you've packed for them and more!
Korean BBQ Beef
Whitney Bond talks about her recipe for Korean BBQ Beef on Episode Six of Feed Me! One of her best lunch-packing hacks is to make a dish like Korean BBQ Beef and then portion it in different ways for lunches, like bowls or wraps.
Episode 5
Don't Fear the Kitchen with Parker Wallace
Marcus D. and Parker Wallace are on a mission to help cooking novices take a deep breath and face their kitchen fears.
Recipe Bonus
Parker Wallace recently posted this recipe for Ribeye Cap Steaks with Peppercorn Sauce on Parker's Plate.
Episode 4
Margaritas with Tim Rita
Camarena Tequila master mixologist Tim Rita joins Marcus D. to talk all things Margarita as we follow Episode 3 about Tacos with Episode 4 about Tequila!
Grilled Steak Tacos with Poblano-Mango Salsa
With Episodes 3 and 4 celebrating both tacos AND tequila, we thought we'd throw in a bonus recipe video for our Grilled Steak Tacos. These tacos are perfect with a Camarena Tequila Fiery Mango Margarita!
Episode 2
"What's in Season" with Parker Wallace
You may have seen her doing TV cooking segments all over the country. For this segment, Emmy-nominated "culinary goddess" Parker Wallace stops in at the studio to talk with Marcus D. about eating in season, and she drops by with some great food to share!
Episode 3
"Tacos!" with Whitney Bond
Food blogger Whitney Bond is back with Marcus D. to talk tacos and "think outside the shell." Your "Taco Tuesday" will never be the same! Whitney's featured recipe for this episode is Chipotle Lime Carne Asada Tacos...enjoy!
Episode 3 Bonus
Whitney and Marcus share some of their taco knowledge.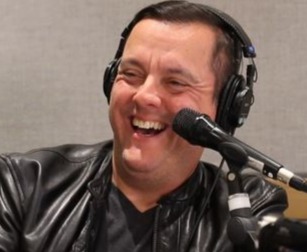 Marcus D.
iHeartMedia San Francisco's Star 101.3 morning show host Marcus D. hosts Feed Me!, a new original podcast series featuring tips and tutorials from food and lifestyle bloggers and cooking experts.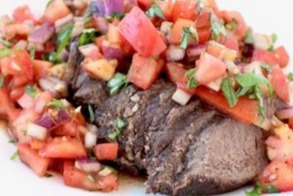 Episode 1
"One Pot Wonders" for Summer with Whitney Bond
Food blogger and author Whitney Bond joins Marcus D. to talk about the Instant Pot, slow cookers and great summer meals including this episode's featured recipe, Instant Pot Bruschetta Beef.