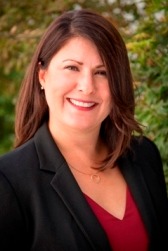 Jill Scofield
Director, Producer Relations
Jill Scofield serves as Director of Producer Relations for the California Beef Council. In this role, she oversees the organization's producer outreach and education efforts, allowing her the honor of working directly with the men and women who work hard to produce safe, wholesome beef.
Prior to joining the CBC in 2013, Jill worked in the public relations field for over a decade, and was involved in the development of a variety of successful statewide and regional public awareness campaigns for numerous organizations. She most recently served as the Executive Director of External Relations for the Foundation of California Community Colleges, and prior to that, served in communications roles at the City of Sacramento, University of the Pacific, and Sacramento public relations firm Lucy & Company.
Jill graduated from University of the Pacific with a degree in communications, and spent a term studying international relations and business in Turin, Italy. She hails from Northern Nevada, where she grew up on her family's cow-calf ranch and spent her formative years participating in 4-H, rodeo, and helping buckaroo with the family.
She and her husband Ed have two young sons, Colt and Charlie, who keep them busy with school activities, sports, and laundry.